Lights in Kuemmel Park this Holiday!
Believe
Glasgow's Holiday in the Park will feature drive-through Christmas displays sure to light up your heart! Starting November 25th, 2023 through December 28th, 2023 from 5 PM – 11 PM, come see and experience mid-Missouri's newest holiday light display!
Park will be One Way, enter from the top.
Take Randolph St to Park Rd.
Then make a left onto E. Park Rd.
A Magical Community
Take a sparkling and shining drive through Glasgow's Kuemmel Park. Enjoy the holiday treats and experiences that you'll find on your adventure!
Local community groups will be joyously participating on the weekends to help guide your visit. They will be raising funds for their organizations.
We ask for a donation during your magical drive through Holiday In The Park to show your support. All donations will be split between the participating groups.
November 25 – 26: Steinmetz 4-H
December 1 – 3: Glasgow PTO
December 8 – 10: TBD
December 15 – 17: St. Mary High School Youth Group
December 22 – 23: TBD
Share your Love
In order to make this event a success, we are looking for Sponsors and the help of generous donors to join forces with us to create an extraordinary holiday light display in Kuemmel Park!
No gift is too small. For donation sponsorships of $250 and above, a recognition sign will be displayed as a thanks of our appreciation and you will be included in event marketing.
Donations MUST be received by October 31, 2023 to have a theme lighted display with a donor recognition sign! All continued donations are needed to help support Glasgow Main Street Association.
<= $100: TWINKLE Help light up the Park, buy a Twinkle!
$250: GLITTER Put a light display in Kuemmel Park!
$500: SPARKLES Light display of 2-3.
$750: BRILLIANT GLOW Light display of 3-5.
$1000: DAZZLER Light display of 5-7.
$1500: AMAZING GRACE Light display of 7+
$2500: GRAND ILLUMUNIATION 1 Amazing Grace and 1 Dazzler display. Donor recognition on ALL marketing material, including Park entrance signs.
Note: Displays with animation have increased costs.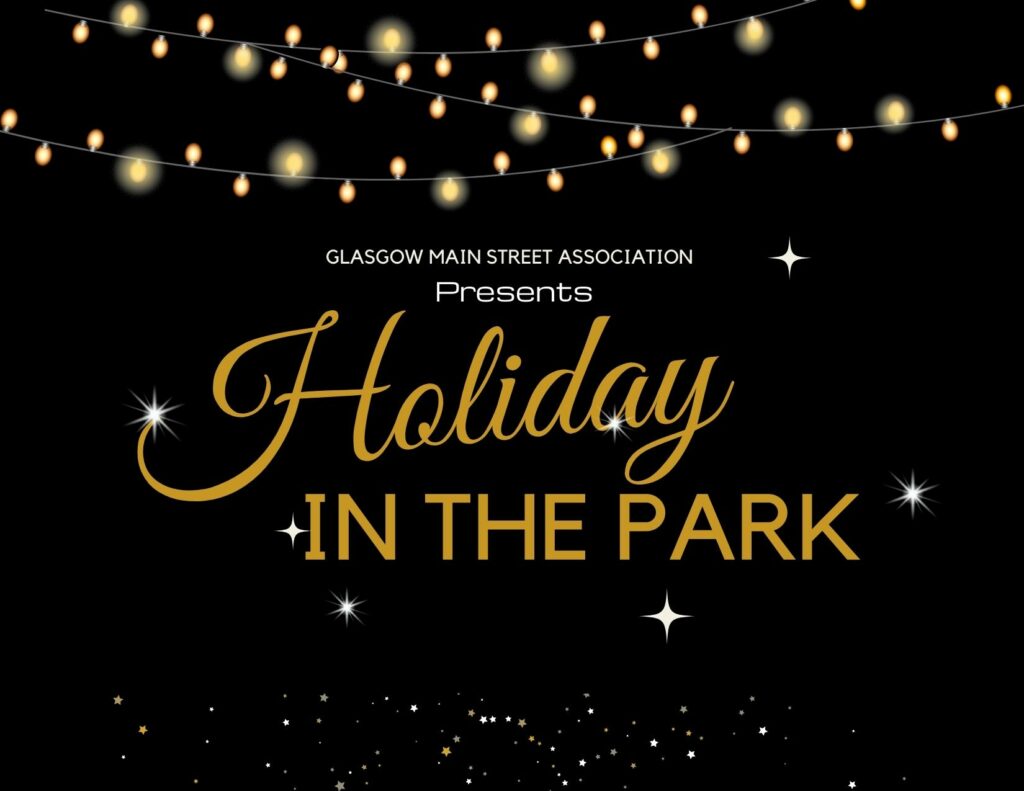 "Daniel Stallman will be designing and lighting Kuemmel Park."
The Glasgow Park Board has collaborated with Glasgow Main Street Association to provide this opportunity.
HOLIDAY SCHEDULE
Opening night will be Saturday November 25th, 2023 on Old Fashioned Christmas.
Then Holiday in the Park starts nightly November 25 – December 28 from 5 PM – 11 PM.
RULES
Drive Through Only. Please stay in Car. No Walking.
ROADS & INCLEMENT WEATHER
Kuemmel Park contains steep hills and sharp curves that can be icy during the winter months.
Glasgow City has committed to keep park roads plowed and clear for holiday enjoyment. Should severe weather impact the ability to keep the park roadway clear we will post an alert online about closures.
Christmas Light Theme Examples
Glasgow MO