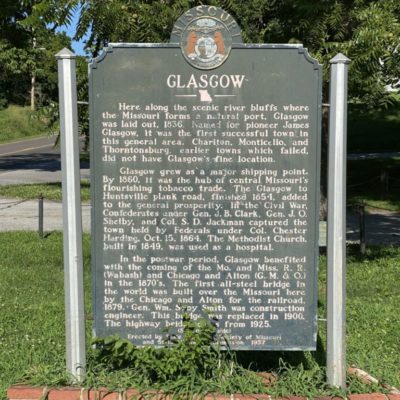 Missouri 2021: Past. Present. Future.
August 10, 2021, will mark the two hundredth anniversary of Missouri's entry as the 24th state to enter the United States.
As a way to advance Missouri 2021's mission to "promote a better understanding of Missouri and its regions, communities, and people, both past and present," Missouri Main Street Connection presents the Bicentennial Passport!
As you explore and discover Missouri's rich and complex history, you will be able to earn stamps for your passport and travelers with the most stamps on their passport can win win prizes!
Take the Glasgow Scenic Driving Tour
Visit https://www.momainstreet.org/bicentennial to download your Missouri Passport and start your adventure today!
Learn more about the Missouri 2021 celebration by visiting https://missouri2021.org.
Get Your Passport Stamp
Glasgow's Missouri 2021 Bicentennial Stamp is currently located at:
Hours:
Monday-Saturday 9 am -3 pm